Cairngorms Photo Tour
Where:
Cairngorms National Park Scotland
No previous experience required | Bridge, Point-and-Shoot and DSLRs welcome | No smart phones
Places limited to 2 per date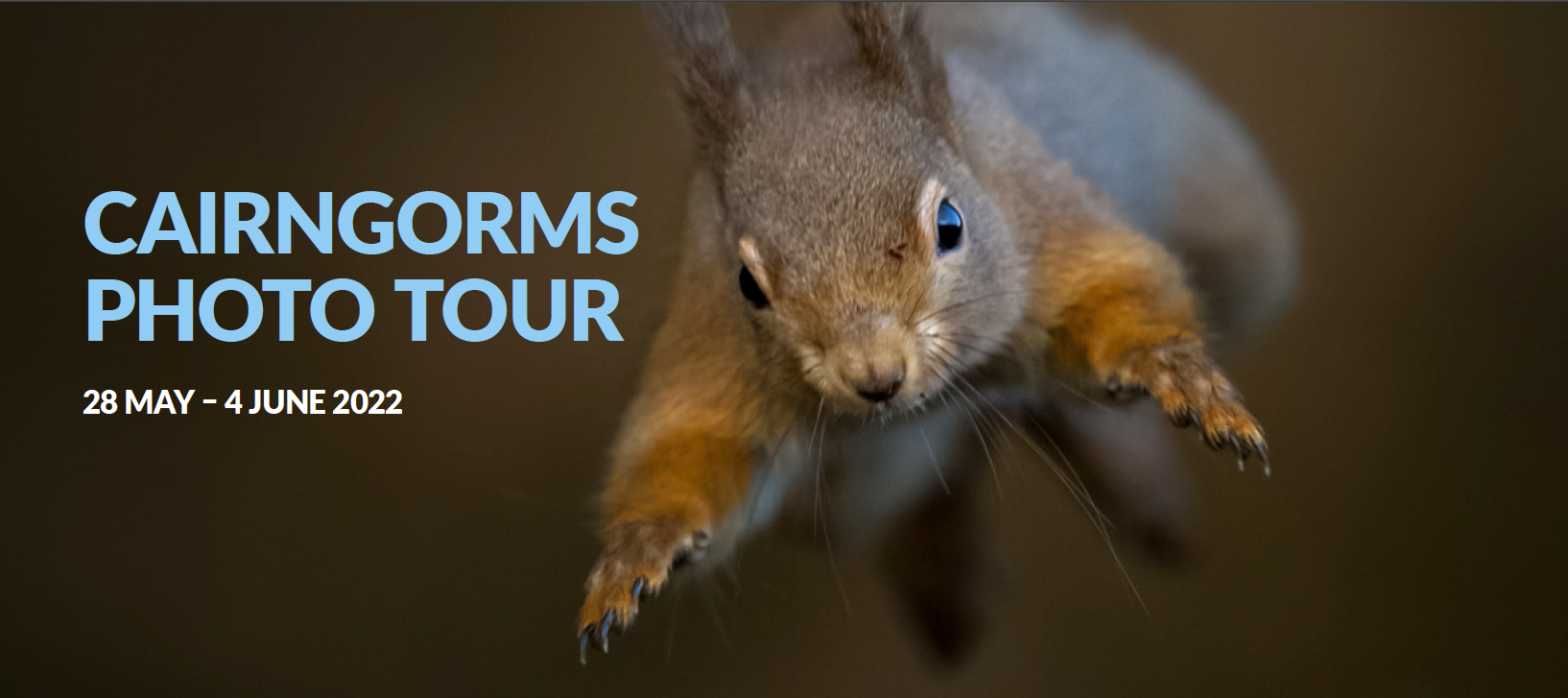 Course Description
Join Matt Maran and Neil Aldridge on a 7-day photo tour in the heart of the Cairngorms National Park where you will have the chance to photograph, badgers, foxes, pine martins, red squirrels, hunting ospreys and stunning landscapes.
Nestled on the banks of the Feshie River in Scotland's Cairngorms National Park, the comfortable Ballintean Mountain Lodge has a large lounge for relaxing, reading, socialising, and of course looking at and backing up footage on laptops. WiFi is available throughout the lodge.
What to bring
A range of clothing will be important. Although the trip will take place in late spring/early summer, the winds coming off the mountains and lochs can still be cold and we will often be sat still for long periods around dawn and dusk, so warm hats, gloves and plenty of layers will be important.
Conversely, it can get very warm during the day so comfortable clothing and hats to keep you cool but covered from the sun are recommended. Remember: we may be in Scotland but the sun can be deceptively strong up on the mountains and by the lochs and sea, so please do bring sun cream.
We certainly don't expect everyone to be decked out in camouflage, but there will be times (like in the hides) when it will be important not to wear white or bright coloured tops, hats and gloves (the bits of you that the wildlife can see). This really does make a difference, so to improve everyone's viewing success, please try to bring some muted/natural tones (greens, browns etc).
We are traveling before the high season for midges but their numbers can depend on the weather conditions earlier in spring. Generally they should not be a problem but it is worth packing some repellent and insect-proof clothing (long sleeves and trousers) that you can wear in the forests and while outdoors in the evenings.
A range of footwear is recommended. At the very least, please bring something that will be comfortable and supportive for walking over uneven ground, such as walking boots or trail shoes. You may wish to bring something comfortable to wear around the lodge, such as flip-flops or slippers. Welly boots can also be useful for wading into the shallows in lochs and improving your landscape shots.
In terms of camera equipment, a tripod is important. If possible, bringing both a fluid tripod head (for smooth movement) and a static tripod head (for rock-solid landscapes and macro work) is ideal. You don't need to have the biggest telephoto lens on the market but something in the range of a 300mm lens will allow you to make the most of the ospreys, squirrels and dolphins. Any other lenses that you can bring – from wide or macro to supertelephoto – will come in useful. And whether you have a mirrorless, DSLR or even a bridge camera, we will help you get the most out of your equipment.