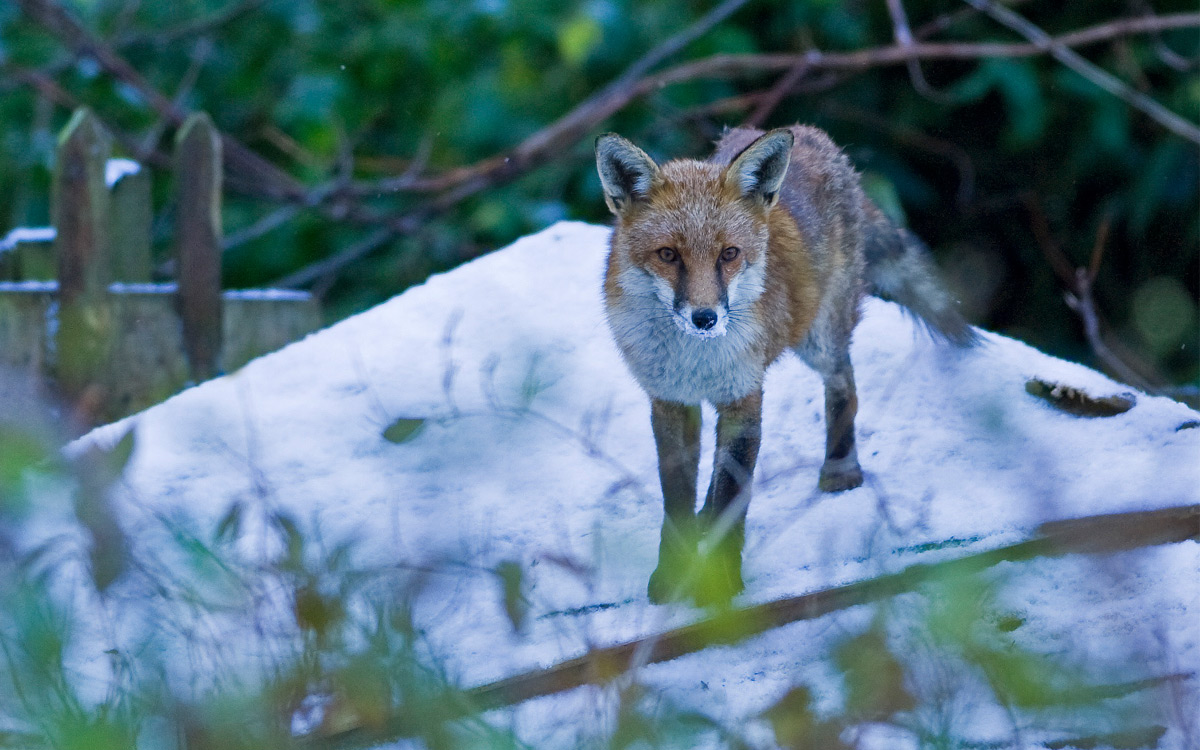 This winter I'm stepping up my latest photography project which looks at nature in London and explores the importance of green spaces in an urban setting and the habitats they provide for wildlife, plants and recreation for people
After travelling to the west coast of Canada from London for many years I liked the idea of keeping things local – hopping on the bus or riding my bike to visit some of the most well-known parks, unknown hidden treasures and back gardens in London and to document them in a new and innovative way.
I am a big lover of foxes, since I was a kid I always got a buzz seeing one roaming the streets and have wanted to get decent photos of these enigmatic creatures. I am impressed with their survival instinct and ability to live alongside people in a busy city against all the odds.
A common response when you tell people you are searching for foxes to take a picture is "oh I see them all the time" or "you should come to my garden they're always there" Seeing a fox is one thing, taking a decent picture is another. A fox sighting is usually a fleeting glimpse, they have an incredible ability to disappear. Their very existence in the city is due to their cunning nature and to capture them on film presents many challenges.
Most foxes are nocturnal so using natural light is tricky, secondly they don't hang around, once they are on the move, searching for food is the main priority and they travel quickly, keeping up is not easy. On top of this there is no shortage of great fox photos out there so capturing something new will be tough.
To help with some of these challenges I have teamed up with the London WildlifeTrust at Camley Street Natural Park. Camley Street is a two acre nature reserve situated on the banks of Regents Canal in the heart of Kings Cross. It provides a sanctuary for wildlife and a hub for education programs for schools and other visitors with an interest in wildlife, green spaces and conservation.
The reserve is a perfect setting for the urban fox, two acres of protected green land in the heart of the city and access to plenty of food nearby. I've been experimenting with remote shooting with the help of my friend and expert remote photographer Bertie Gregory. You can look at some of his great work here: bertiegregory.com
Getting close to any wildlife is a real challenge so to do this I've adapted a Pelican Case to hide my camera inside. Using remote triggers I can fire the camera from a distance with the hope of capturing images of a curious fox.
Educated guesswork and a lot of luck is involved so it will be all about perseverance. The plan is to capture wide angle images showing the animal in its environment and to do this requires  a set of skills completely new to me. I am excited to see what will happen over the coming months as the foxes will get more active as natural food sources decline.
One of the great things about nature photography is the unexpected and there are always other interesting subjects to photograph and unknowns that occur.
Here is a new image of a robin taken with a remote camera. Once again I had no luck with the foxes so after daybreak I turned my attention to the busy robins. I was really happy with the way this one turned out. The 'click' of the shutter was enough to make the robin fly away but not before the flash captured the wing fully spread.
I will be on the lookout to capture images of other animals, landscapes and interesting plant species. You can take part too, please follow this Blog and feel free to comment and also let me know if you have any unusual or interesting wildlife sightings.